Vanity Tasks
From Aeria Browser Wiki
Note: Vanity tasks are unavailable since a previous update.
Vanity Tasks
Vanity Tasks are very special. Unlike a normal task they are more like an achievement system in the game. Once you complete on it unlocks a marker in the Vanity window and gives you a Vanity Token. If you collect 5 vanity tokens you will be able to redeem them to get 2 medals. In addition to medals you can also get special titles from certain unlocks.
To get the the Vanity Tokens screen you click here:
Interface: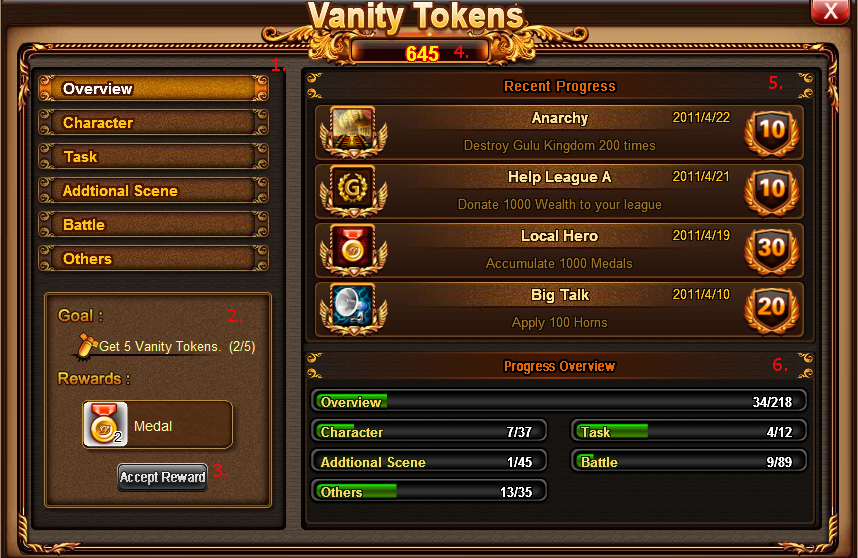 1. This is the list of pages that the Vanities are organized into: Overview - You can see the most recent vanities obtained, your progress in obtaining all vanities and how many tokens you have obtained towards redeeming for a reward. Character - List of vanities pertaining to character stats, online time, and equipping certain weapons. Task - List of vanities pertaining to doing tasks. Additional Scene - List of vanities pertaining to doing boatyard scenes and defeating bosses. Battle - List of vanities pertaining to weapon use, matches played and opponents defeated. Others - List of vanities pertaining to getting gold/vouchers/medals, using horns/trumpets, and many miscellaneous tasks that do not fit in the previous categories.
2. The Goal - How many vanity tokens you received and need to get a reward.
3. Accept Reward - Click here to receive your reward if you earned enough vanity tokens.
4. Total point value of the vanities you have unlocked.
5. Vanity List - On the Overview page it shows the most recent vanities you unlocked. On any other page it shows the vanities of that section that you unlocked (if any) on the top and highlighted and vanities you can unlock for that section below shaded out.
6. Progress Overview - Shows how many vanities you have unlocked in total and how many vanities there are in game total as well as a breakdown of each page's vanities.