Haze Island
From Lime Odyssey Wiki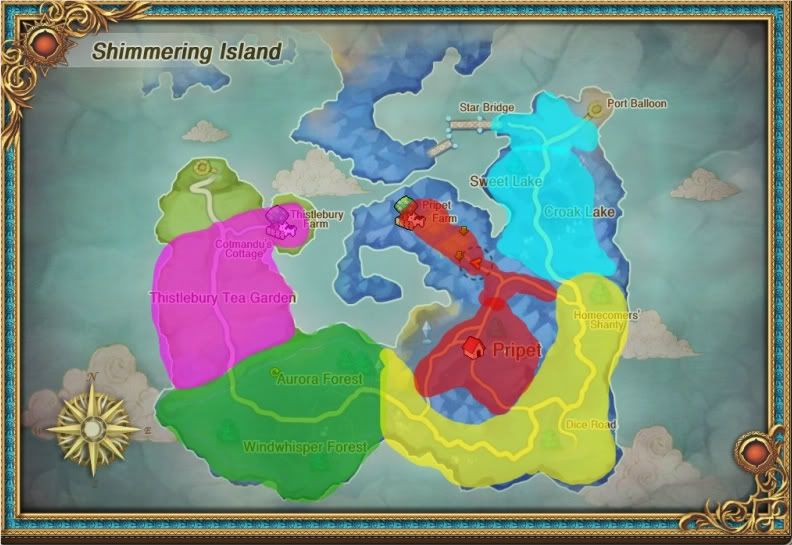 Pink area - Thistlebury Tea Garden and environs
Hedgepig
Search: Hedgepig Feather
Gather: Hedgepig Leather
Racoon Lemur
Search: Racoon Lemur Feather
Gather: Racoon Lemur Leather
Horntree
Gather: Horntree Fruit
Chop: Horntree Wood
Forget-me-Not
Search: Forget-me-Not Flower
Dig: Forget-me-Not Root
Chop: Forget-me-Not Stem
Pikin Artifact
Search: Pikin Jewel
Gather: Pikin Relic
Muscovite
Search: Muscovite Metal
Dig: Muscovite Ore
The animal materials are found in the northern area, around the village. The trees and flowers are common in the Tea Garden, while the ore and artifacts tend to be near the roads.
Green area - Aurora/Windwhisper Forests
Sophora
Dig: Sophora Root
Search: Sophora Flower
Chop: Sophora Stem
Schier Artifact
Search: Schier Jewel
Gather: Schier Relic
Albite
Dig: Albite Ore
Search: Albite Metal
Yew
Gather: Yew Fruit
Chop: Yew Wood
Poa Stone
Dig: Poa Stone Powder
Search: Poa Stone Fragment
Pava Tree
Gather: Pava Tree Branch
Search: Pava Branch
The materials here are quite well spread out, and there are also two unique materials - Poa Stone and Pava Tree.
Yellow area - Dice Road and the eastern forests
Canna Lily
Dig: Canna Lily Root
Search: Canna Lily Flower
Chop: Canna Lily Stem
Smoketree
Gather: Smoketree Fruit
Chop: Smoketree Wood
Fayalite
Search: Fayalite Metal
Dig: Fayalite Ore
Matina Artifact
Search: Matina Jewel
Gather: Matina Relic
Poa Stone
Dig: Poa Stone Powder
Search: Poa Stone Fragment
Most of the materials here are surrounded by mobs that aggro, so be careful. The roads are generally fairly well-lined though.
Red area - Pripet town
Hedgepig
Search: Hedgepig Feather
Gather: Hedgepig Leather
Racoon Lemur
Search: Racoon Lemur Feather
Gather: Racoon Lemur Leather
Cocoa Poodle
Search: Cocoa Poodle Feather
Gather: Cocoa Poodle Leather
Nothing unusual here. The cocoa poodles are more concentrated in the town centre, and the animals can also be found on the farm.
Blue area - Croak and Sweet Lake
Prismleaf Tree
Gather: Prismleaf Tree Fruit
Chop: Prismleaf Tree Wood
Thistlemum
Dig: Thistlemum Root
Search: Thistlemum Flower
Chop: Thistlemum Stem
Dig: Magnesite Ore
Search: Magnesite Metal
Tuto Artifact
Search: Tuto Jewel
Gather: Tuto Relic
As there is a lot of water here, the materials are very spread out. I found sticking to the outside edges to be the best, and safest, bet.

Credit goes to MeiuAngel of LO Forums