Golden Plains
From Eden Eternal Wiki
About
Golden Plains is a boundless grassland with mirror-smooth rivers and temperate weather. Farming, transportation, and even hot-air balloon travel have seen rapid development here. The ease of communication across this flat landscape led many to settle here. The excellent location encourages commerce, and many traveling merchants pass through the prosperous capitol, Golden City.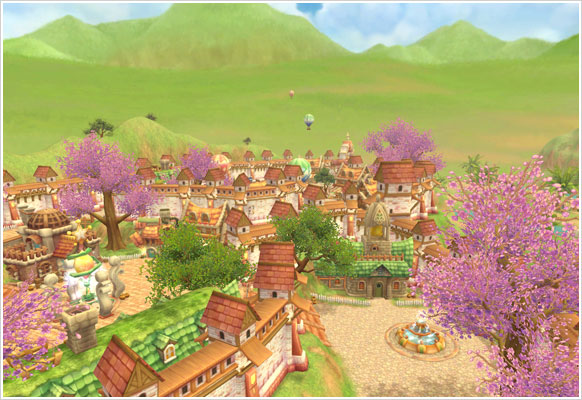 Map
Sub-locations
Sam's Mirage
A small pasture seldom visited by people from the city.
Saken Forest
The territory of fierce birds of prey who attack anything that gets too close.
Sanity's Ascent
A small hill with a giant wolf statue.
Merchants
<Crystal cross merchant> Mika. X: 185 x Y: 108
<Happy alpaca> Joankena. X: 456 x Y: 346
<Junior> Soul guardian. X: 454 x Y: 437. X: 181 x Y: 112
<Traveling merchant> Rahim. X: 126 x Y: 294
<General merchant> Stroh. X: 429 x Y: 336
<Traveling master repairman> Koln. X: 469 x Y: 323
<Fame chest> Shining enterprise. X: 450 x Y: 431
Warp point
Other NPC
<Templar knight> Sighborg. X: 435 x Y: 280
<Reclusive elder> Benzema. X: 479 x Y: 352
<Skyreach Jungle pilot> Skell. X: 440 x Y: 283
<Friendly wave center> Ld. Researcher. X: 435 x Y: 300
<Ursun warrior> Banestu. X: 44 x Y: 142
<Ranch owner's kid> Peryn. X: 364 x Y: 53
<Ranch owner> Ryen. X: 372 x Y: 46
<Oracle alchemist> Emi. X: 450 x Y: 192
<Zumi scout> Taen. X: 407 x Y: 254
<Frog knight> Glenn. X: 432 x Y: 257
<Police chief> Arlen. X: 435 x Y: 393
<Sr. Councilman> Bradan. X: 375 x Y: 364
<Wealthy merchant> Samrod. X: 405 x Y: 421
<Mayor's secretary> Kitia. X: 453 x Y: 431
Soul Guardian. X: 456 x Y: 437. X: 182 x Y: 113. X: 370 x Y: 394
<Golden Plains> Inkeeper. X: 418 x Y: 281
General monsters
Lv. 41 Vile Thorner
Lv. 41 Pungent Thorner
Lv. 42 Scorpion Beetle
Lv. 42 Toxic Scorpion Beetle
Lv. 42 Stampede yak
Lv. 42 Raging bull
Lv. 43 Rock horn bull
Lv. 43 Spiked Harrier
Lv. 43 Crested Raptor
Lv. 43 Razorclaw Harrier
Lv. 44 Axe-Crested Raptor
Lv. 44 Wolfeye Bandit
Lv. 44 Wolfeye Trooper
Lv. 44 Wolfeye Killer
Lv. 45 Wolfeye Doctor
Lv. 45 Wolfeye Berserker
Elites
Lv 41 <Thorn whip> Selina. X: 290 x Y: 393
Lv 42 <Sickle foot> Doomballa. X: 370 x Y: 216
Lv 42 <Trackless> Nabath. X: 378 x Y: 158
Lv 43 <Slow poke> Hekemi. X: 388 x Y: 107
Lv 43 <Bonebreaker> Lyon Wing. X: 121 x Y: 427
Lv 44 <Skullsplitter> Nofe. X: 70 x Y: 280
Lv 44 <Bold fighter> Sandberg. X: 186 x Y: 266
Lv 44 <Killer magi> Katya. X: 121 x Y: 152
Lv 44 <Wolfeye team> Leader. X: 134 x Y: 262
Lv 45 <Rage puncher> Dizzy. X: 83 x Y: 38
Lv 45 <Bloody judge> Saul. X: 106 x Y: 29
Legion elites
Lv. 41 Cursethorn. X: 239 x Y: 360
Lv. 43 Granitehorn. X:437 x Y: 181
Lv. 43 Fleshrender. X: 164 x Y: 436
Lv. 44 Lycath. X: 135 x Y: 220
Base crystals
Lv. 44 North Golden city. X: 350 x Y: 429
Lv. 44 Sam's mirage. X: 381 x Y: 56
Lv. 44 South Golden city. X: 430 x Y: 266
Field Bosses
Lv. 45 <Cursed bug queen> Gilles. X: 262 x Y: 271
Related topics