Aven
From Eden Eternal Wiki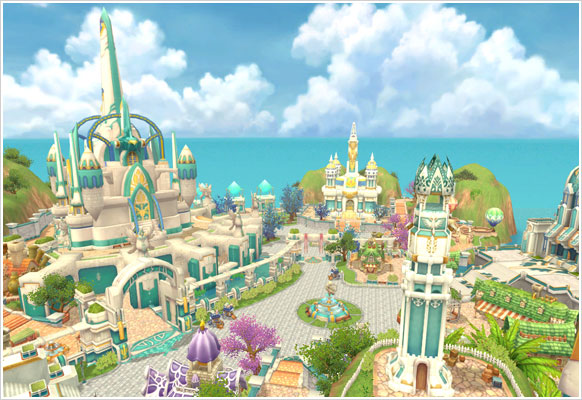 Aven, the Island Sanctuary, built of glimmering ivory and blue stone, is located on an island in the middle of a lake. It's a peaceful place, removed from the strife plaguing the rest of the continent. Because of this, its library has managed to amass a vast collection of texts. Religion unites the city and maintains its neutrality despite the wars surrounding it. The Pope of Meterol Curia currently presides over it.
History
Aven, despite being surrounded by warring nations, has protected itself by maintaining neutrality. Its library currently holds many texts due to this neutrality. Aven is also the biggest city in Eden Eternal. For as long as anyone could remember, the city was built on an island surrounded on all sides by a lake. So, the only transportation to here is the warp.
Sections
For Aven Fame Vendors see, Aven Fame Vendors
Trading District
GG Bank: The perfect place to store things when your bags are full.
CC Auction: Buy & Sell with other players.
Love Shop: Accessible from 'Love Oracle Dia' the love shop offers special items and skills to couples.
Book Merchant:A unique merchant that sells books that trigger quests for specific levels.
Armor Merchant:The uniqueness of Aven's armor merchant is that you are asked whether you want to look at low or high level armor.
Weapons Merchant:The specialty of Aven's weapons merchant is that the player is asked whether you want to look at low or high level weapons.
Market Zones
Market Zones, located at the Courthouse (258,424), City Hall (334,340) and the Temple Knights' Hall (422,340) are designated areas for Player shops.
Courthouse
Supreme Judge Phire: NPC, Part of one of the earlier quests.
Industrial Ward
Also known as the 'Crafting District' this area can help you create gear and weapons, as well as help you upgrade them.
Temple Knights Hall
Guild Quest Off. Kaiser This NPC sells Guild Quests used for raising the fame of one's guild.
Heroic Trials
For more information see, Heroic Trials Guide
Speak to Inna (457, 393) to start Heroic Trials.
Other Noteable NPCs
Daily Fortune
Speak to Tarot Card Reader Morlin (394, 469) to receive a 10% boost in Class Points for a random class branch.
Aven Innkeeper
Speak to the Aven House Manager (318, 307) to create a Player house in Aven.
Professor Koss
Speak to Professor Koss to receive ab EXP or CP boost based on the players level.
Lv30-45 Basic Leveling Boot Camp: +50% EXP and CP
Lv46-50 Commanding EXP Boot Camp: +50% EXP
Lv51-59 Drillmaster Boot Camp: +50% CP