Altar Summoning
From Eden Eternal Wiki
Description
Summoning allows you to gather materials needed to make equipment. Summoners sell Assignments and can be found in Aven or Guild town.
Using the service
You need to buy Summoning assignments from the Summon Merchant (X:258, Y:211) in Aven or in Guild towns to start gathering.
Take your summoning assignment to Summoner Slach (X:292, Y:188) in Aven or Guild towns (depends on availability) who will summon monsters. They can only summon one monster at a time, and may only summon assignments below their max level.
Example of summoning npc's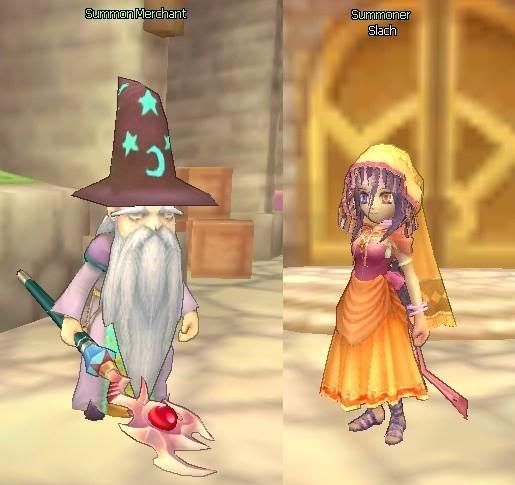 Observations
It is not required for you to do the How to Assign Work quest to be able to Summon.
You may not always get the desired amount from the assignments, since the quantity and items have a range.
Some Summoning assignments have a higher rarity than others, which increases the chance to give better materials.
Guild town summoners sell higher level Summoning Assignments and increase the chance of gaining assignment resources.
Some profit may go (depending on tax) to the Guild Town you purchased from.
If Summoning while in a party, other party members may acquire your items. You may want to Change the Distribution in your party before you Summon.
Example of battle with a summon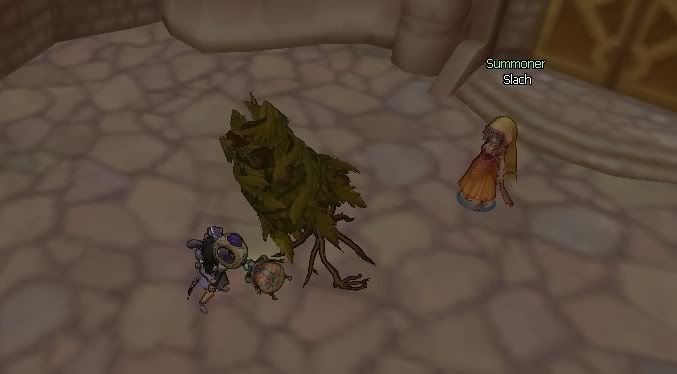 Related topics
For Equipment Crafting see, here
For more information on Guild Town Merchants see, Guild Merchants
Formulas list
Work level
Item level
Rarity
1st find
2nd find
3rd find
4th find
5th find
Cost
1
20
*
Lost Energy x5-10
Sacred Animal Fur x2-4
171
1
20
**
Lost Energy x5-10
Sacred Animal Fur x2-4
257
1
20
***
Lost Energy x10
Sacred Animal Fur x4
428
2
30
*
Entangled Energy x5-10
Alazarin Fur x2-4
Magic Rune x1
821
2
30
**
Entangled Energy x5-10
Alazarin Fur x2-4
Magic Rune x1
1 232
2
30
***
Entangled Energy x10
Alazarin Fur x4
Magic Rune x1-2
2 053
3
40
*
Tumult Energy x5-10
Rampage Fur x2-4
Mirage Rune x1
2 423
3
40
**
Tumult Energy x5-10
Rampage Fur x2-4
Mirage Rune x1
3 636
3
40
***
Tumult Energy x10
Rampage Fur x4
Mirage Rune x1-2
6 059
3
45
*
Strike Energy x5-10
Ancient Fur x2-4
Disaster Rune x1
Feeble Spirit x1
2 748
3
45
**
Strike Energy x5-10
Ancient Fur x2-4
Disaster Rune x1-2
Feeble Spirit x1-2
4 121
3
45
***
Strike Energy x10
Ancient Fur x4-8
Disaster Rune x1-4
Feeble Spirit x1-4
6 869
3
45
****
Ancient Fur x4-8
Disaster Rune x2-4
Feeble Spirit x2-4
10 991
4
50
*
Devourer Instinct x5-10
Demimonde Fur x2-4
Tragedy Spell x1
Mournful Spirit x1
3 536
4
50
**
Devourer Instinct x5-10
Demimonde Fur x2-4
Tragedy Spell x1-2
Mournful Spirit x1-2
5 303
4
50
***
Devourer Instinct x10
Demimonde Fur x4-8
Tragedy Spell x1-4
Mournful Spirit x1-4
8 839
4
50
****
Devourer Instinct x10
Demimonde Fur x4-8
Tragedy Spell x1-6
Mournful Spirit x1-6
Demon Element x1
14 140
5
55
*
Crasher Instinct x5-10
Chaos Fur x2-4
Justice Spell x1
Sacrificial Spirit x1
4 323
5
55
**
Crasher Instinct x5-10
Chaos Fur x2-4
Justice Spell x1-2
Sacrifical Spirit x1-2
6 484
5
55
***
Crasher Instinct x10
Chaos Fur x4-8
Justice Spell x1-6
Sacrifical Spirit x1-6
Strife element x1
11 130 (3% tax)
5
55
****
Crasher Instinct x10
Chaos Fur x4-8
Justice Spell x1-6
Sacrifical Spirit x1-6
Strife element x1
17 809 (3% tax)
5
55
*****
Chaos Fur x4-8
Justice Spell x2-6
Sacrificial Spirit x2-6
Strife element x1
29 307 (13% tax)
6
60
*
Pulp Instinct x5-10
Devil Fur x2-4
Graveshead Spell x1
Avenging Spirit x1
6 484
6
60
**
Pulp Instinct x5-10
Devil Fur x2-4
Graveshead Spell x1-2
Avenging Spirit x1-2
7 665
6
60
***
Pulp Instinct x10
Devil Fur x4-8
Graveshead Spell x1-4
Avenging Spirit x1-4
13 158 (3% tax)
6
60
****
Pulp Instinct x10
Devil Fur x4-8
Graveshead Spell x1-6
Avenging Spirit x1-6
World particle x1
21 53 (3% tax)
6
60
*****
Devil Fur x4-8
Graveshead Spell x2-6
Avenging Spirit x2-6
World particle x1
34 646 (13% tax)
7
65
*
Fury Energy x5-10
Flame Soul Skin x2-4
Imprison Spell x1
Final Fight Soul x1
7 112
7
65
**
Fury Energy x5-10
Flame Soul Skin x2-4
Imprison Spell x1-2
Final Fight Soul x1-2
10 668
7
65
***
Fury Energy x10
Flame Soul Skin x4-8
Imprison Spell x1-4
Final Fight Soul x1-4
18 314 (3% tax)
7
65
****
Fury Energy x10
Flame Soul Skin x4-8
Imprison Spell x1-6
Final Fight Soul x1-6
Devour element x1
29 302 (3% tax)
7
65
*****
Flame Soul Skin x4-8
Imprison Spell x2-6
Final Fight Soul x2-6
Devour element x1
66 959
8
70
*
Destroyer Energy x5-10
Giant Walker Skin x2-4
Misery Spell x1
Harbringer Soul x1
9 876
8
70
**
Destroyer Energy x5-10
Giant Walker Skin x2-4
Misery Spell x1-2
Harbringer Soul x1-2
14 814
8
70
***
Destroyer Energy x10
Giant Walker Skin x4-8
Misery Spell x1-4
Harbringer Soul x1-4
8
70
****
Destroyer Energy x10
Giant Walker Skin x4-8
Misery Spell x1-6
Harbringer Soul x1-6
Chaos element x1
8
70
*****
Giant Walker Skin x4-8
Misery Spell x2-6
Harbringer Soul x2-6
Chaos element x1
14 814
8
75
*
Broken soul energy x5-10
Fantasy beast skin x2-4
Abyss magic spell x1
Templar heroic soul x1
15 268
8
75
**
Broken soul energy x5-10
Fantasy beast skin x2-4
Abyss magic spell x1-2
Templar heroic soul x1-2
22 903
9
80
*
Saintly demon energy x5-10
Ancient drake skin x2-4
Endless dark spell x1
Moon scar heroic soul x1
20 286
9
80
**
Saintly demon energy x5-10
Ancient drake skin x2-4
Endless dark spell x1-2
Moon scar heroic soul x1
30 429
Related links