ittoujuu
Name: Nick
Gender: male
Location: San Jose United States
Join Date: Feb 13, 2008
Last Access: 7 weeks ago
Views: 15891
Blurb About Me
Greetings, true believers.
Since 2008, I've been proud to provide localizations for Aeria Games. However, with the sale of Aeria Games' PC portfolio to German media company ProSiebenSat in the spring of 2014, most of the positions that covered our PC games fell by the wayside. Thus unfortunately did my sun set - I will no longer be able to offer up the characteristic whimsical and colorful localizations to which you are accustomed.


The European office, under new leadership, is now handling the localization for the English versions of our existing games. It's been an honor to serve you, and I'll miss your zeal for your favorite titles. My labors finished, I admonish you in three things: 1) Play games you enjoy. Life is too fleeting to dump untold hours into an unsatisfying game. 2) Seek out good stories in all media. Gaming cannot be enriched only from within; it needs outside inspiration. 3) Be kind to the people you meet online. It'll make the internet a better place.


So it is that I take my leave, but I do so knowing that even as the sun sets, it rises somewhere else.


THANK YOU FOR PLAYING



Aeria Games I've Done Localization For

- Richman Online
- Stone Age 2
- Cronous
- Shaiya
- Dream of Mirror Online
- Luminary
- La Tale
- Hello Kitty Online
- Dragon Sky
- Grand Fantasia
- Kingdom Heroes
- Dynasty Warriors Online
- Legendary Champions
- Kitsu Saga
- Metal Assault
- Realm of the Titans
- Eden Eternal
- Lime Odyssey
- Repulse
- Wolf Team
- Waren Story
- DK Online
- Born to Fire
- Starlight Story
- Scarlet Blade
- Soldier Front 2
- Aura Kingdom
- Chaos Heroes Online


THE END


INSERT COIN
Signature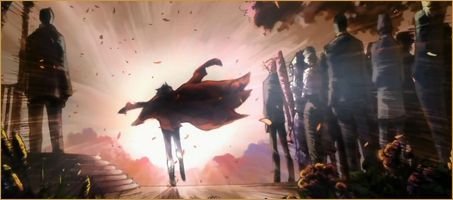 ::all the lights in the sky are stars::