DreamyBunny47
Name: Nociel
Gender: female
Location: FROSTINGLAND - SHDGSAFSDFKDJFDF. Singapore
Join Date: Nov 19, 2012
Last Access: 1 year ago
Views: 88
Media
Favorite Nightcores:
Siggys and Avatars (I WOULD put it as Avas, but that sounds and looks weird) that I requested from Pui :
SIGGYS!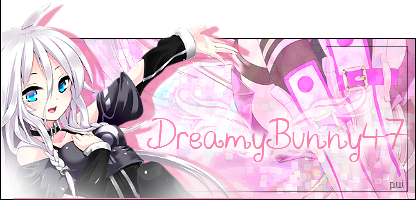 AVATARS!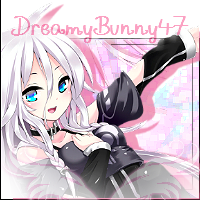 (Yes, that IS Vocaloid IA. VOCALOID FTW!)
Comments
1 year ago
---
1 year ago
---
1 year ago
---
1 year ago
---
2 years ago
---
2 years ago
---
2 years ago
---
Blurb About Me
Hey there~! My name is DreamyBunny47, but you can call me Dreamy. (Seriously, call me Dreamy, Bunny sounds like I'm a energetic, bubbly and up-beat person. Which I'm not.) I like anime, cute stuff and gaming. Feel free to add me as a friend. Thanks~
MAJOR EDIT: I NOW HAZ A SIGNATURE AND SHALL PROCEED TO BURN YOUR EYES FROM THE PINK! MUAHAHAHAHAHA! Thanks to Pui for making this awesome signature. If you managed to read this and your eyes haven't burned off yet, good.
NOTHER' EDIT: Nother' Siggy. Thanks to Pui again. I LIKE PINK AND WHITE (The color AND THE FROSTINGS.) SHDGSAFSDFKDJFDF.
NOTHER' OTHER EDIT: Currently playing Dragon Nest with my broseth.
-Dreamy (Likes Frosting so much that I just slammed the keyboard.)