Amirrora
Gender: female
Birth: Sep 14
Join Date: Feb 16, 2008
Last Access: 1 week ago
Views: 17786
Media

Hey! Welcome to my Profile! I'm Amirrora, but feel free to call me Ami!
I'm a long time Aeria Games player, and an ex-GS for Eden Eternal.

I love to help out in any way I can, so let me know if you need anything.
I spend most of my time online browsing, or playing video games.
Sometimes I draw as well, or spend time at the gym trying to get healthy.

I'm disabled and suffer from Fibromyalgia, but I'm a tough girl
and don't let it get the best of me most days.
If you're curious about anything else, just ask!
Thanks for visiting my profile!

[Contact Us (to send a ticket/ban appeal, ect)]
[Eden Eternal Guide+Useful Link Index]
[Server Status Page]
[Gameplay Guide Index]
[Common Tech Issues]
[Forum Search]
[Terms Of Service EXPLAINED]


Signature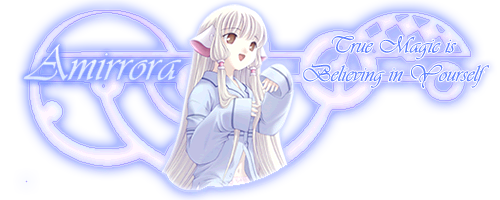 Blurb About Me

Real name: Maria (MA-RE-AH)
Nicknames: Mar, Amirrora, Ami
Age: 22
Birthday: September 14th
Interests: Writing, Roleplaying, Video Games, Drawing, Singing, Chatting with friends, Music, Anime Music Videos, Anime, Cartoons, House MD, and spending time with my fiancee.


Other Websites
iAmirrora@DeviantART
SazukixLockheart@YouTube
Amirrora@RoleplayRepository
Amirrora@GaiaOnline


Aura Kingdom:
-Hydra Server-
Devika
Piper
Eden Eternal:
-Diamond Server-
Devika
Rosali
Felix (mainly used for selling)
Badges